External Data
External Data Platform
An external data platform enables an organization to automatically discover and use thousands of relevant data signals to improve predictions and machine learning model performance.
An end-to-end external data platform provides one tool for accessing all relevant data sources, understanding their impact on data analytics and predictive models, integrating them with internal data, and deploying more accurate analytical and predictive models. It is one platform which enables access to a wide variety of datasets which would typically need to be acquired across several different data providers or data marketplaces. It also provides an understanding of which data signals are relevant for a business problem, and the ROI they will drive. When it comes to external data acquisition and leveraging external data to enrich your internal data or deploy more accurate predictive models, it should help with every step of this process. 
The data acquisition and predictive model deployment process can be laborious when you are using several different data providers, tools, and platforms. An external data platform aims to resolve this by providing the data access and the data science platform all in one place.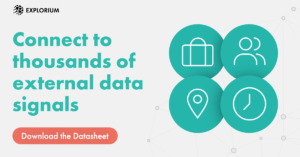 Additional Resources: