Company Data
Firmographic Data
What is firmographic data?
Firmographic data comprise information on a company's key characteristics. It helps categorize companies into valuable market segments. Marketers, marketing teams, and sales teams use firmographic information for lead generation enrichment, sales cycle analysis, B2B sales, messaging for marketing campaigns, and other marketing efforts.
These data points describe the key characteristics of a company. They are a set of descriptive attributes such as company name, legal status, geographic data, company size, annual revenue, market share, types of clients, industry type, technologies, and sales cycle length. This data is used for firmographic segmentation, which categorizes companies into valuable market segments. Marketing leaders and decision-makers frequently use it in building marketing strategies for B2B marketing and sales efforts.
Where does the data come from?
This data is easily sourced, as most organizations include it on their websites or online profiles. Public companies provide their information online in the form of earning call reports, press releases, and news websites. The data considered self-reported data. Other reliable sources of self-reported data include public company registers and tax declarations. Social media platforms can also serve as good sources. 
The second type of data source is derived data, which includes information derived or interpreted from third-party sources. 
The third source is called "verified data" and comes from manually verified data, where a  company's personnel responds to emails or calls and confirms the details. As the process is manual, this source is time-consuming and expensive. 
Data from private companies is often not in the public domain and needs to be collected from alternative sources. Information from news articles, press releases, or social media can be curated to create a usable dataset. 
What types of attributes should I expect?
Firmographic data is a type of company data and comprises descriptive attributes including the following data points:
Company structure: Headquarters, parent companies, subsidiaries, delivery centers.

Company size: Scale of operation, number of employees, employee range, annual revenue in millions, revenue range.

Company Website and social media presence: website, website grade, Twitter page, LinkedIn page, Facebook page.

Contact details: address including country, state, city, zip code, email, phone.

Clients (customer data): Type of clients, number of clients, client domains, potential customers, target market, demographic data

Industry: primary industry type such as retail, CPG, technology, eCommerce, primary SIC code and description, NAICS code.

Technologies: Types of tools, services, software, hardware, coding languages, operating systems, APIs, and other applications.

Revenue: Annual or quarterly turnovers, balance sheet updates, revenue range.

Company performance details: Sales cycle length, sales numbers, quarterly and annual profits, credit rating.

Geographic data: Location of the company headquarter, delivery centers, location of clients, including region, country, state, city, zip code, address.
How should I test the quality of the data?
To test the quality of the data, you need to focus on the methods vendors use to collect and curate it. Make sure that data scraped from various online sources is frequently updated. Manually verified data is typically high quality, but it is a costly method, therefore most organizations cannot get all of their data verified manually.  
Usually, firmographic data tends to be of good quality compared to other types of company data. However, you need to confirm that it matches your requirements.
To test the quality of the data:
Verify that the methods used to collect data match your requirements and provide trusted data.

Confirm that data is accurate, updated, and complete.

Validate that the data meets your requirement by testing with a sample.
Who uses this type of data?
All types of organizations use this data to recognize unique characteristics of companies and categorize them into market segments. Categorized segments are used in market research and competitor analysis.
Firmographic data can augment other types of company data for B2B credit risk analysis.
It can be used to enrich company or B2B data for accurate market segmentation.  
What are the common challenges when buying firmographic data?
The fundamental challenge of firmographic data is evaluating the data collection methods for credibility. Most of the publicly available self-reported data can be trusted, while derived data needs to be checked for correct interpretation. As firmographic data is used for market segmentation, its accuracy is also critical. 
The most common challenges are summarized below: 
Sourcing methods and their credibility: Firmographic data derived from third-party sources can be tricky. The way it is interpreted and strung together from various sources needs to be thoroughly validated for credibility. 

Data timeliness: Firmographic data is used for market research and credit risk analysis. In both cases, the recency of data can affect the outcomes strongly, and verifying the timeliness is challenging.

Data completeness and accuracy: Augmenting and enriching other types of data is one use of firmographic data. Incomplete or inaccurate data can have serious consequences in analysis, which will be difficult to trace back to firmographic data. 
What similar types of data?
Firmographic Data is similar to demographic and technographic data, as well as other types of company data. You can also use firmographic data with other types of B2B data. 
You can find a variety of examples of B2B and company data in the Explorium Data Gallery
Sign-up for Explorium's 14 day free-trial to access the data available on the platform.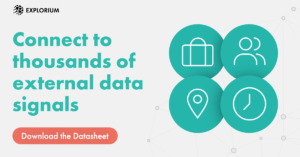 What are the most common use cases of firmographic data?
You can use firmographic data for Account Based Marketing to tap into possible opportunities for expanding accounts and in the segment. B2B credit risk modeling is also another use case for firmographic data.
Enriching other types of company data or B2B data with firmographic data helps to create more accurate market segmentation.        
Account-Based Marketing (ABM): This type of marketing is sometimes called Key Account Marketing, where specific high-value accounts are targeted for generating more business. Firmographic data provides the essential company profile for a deeper understanding of its potential requirements. Company profiles enriched with firmographic data help to personalize sales and marketing campaigns, optimize ABM, and generate higher ROI on marketing investments.  

Account Scoring: Company account profiles need further analysis in order to identify the most promising accounts. Account scoring helps rank the accounts with their perceived value and their potential to convert.  

B2B Credit Risk: With supply chains spanning the globe, managing credit risk across goods and services companies is a challenge. B2B credit risk assessment requires a variety of B2B data and enriched company profiles. You can use firmographic data to enrich company profiles for evaluating companies and mitigating the risk of extending credit over a longer period.

Investment opportunities: Risk managers and investors also use firmographic data to investigate investment opportunities. They use the discrepancies between self-reported data and manually verified data for a specific company to analyze potential risks.

Cybersecurity Risk: Firmographic data augments technographic data to provide a richer company profile. You can use this profile for assessing and mitigating risks of security breaches or cyber-attacks.
Another use case for firmographic data is monitoring suppliers and vendors. You can also use firmographic data for machine learning use cases to redefine small business lending scores and augment demand forecasting models. Explore all the use cases listed on our site and contact us for your specific requirements.
Which industries commonly use this type of data?
Firmographic data has a number of uses and is used across industries, including retail, consumer goods or CPG, eCommerce, manufacturing, hi-tech, banks, insurance, and financial services.         
How can you judge the quality of your vendors for firmographic data?
The key factor in judging the quality of vendors for firmographic data is the method used for data collection and its credibility.
Interacting with vendor reps: Discussing vendor sources and methods is the best way of judging their quality. Explaining your requirements directly to the vendor rep ensures that the vendor can deliver the required attributes and the desired quality.

Success stories and customer reviews: Several vendors offer customer reviews on their websites, supplemented with success stories and client testimonials. You can use this feedback for estimating the quality and reliability of the data vendors offer.

Demo: An established way of shortlisting vendors is to get demos of the datasets they offer. It is a golden opportunity to examine the attributes and confirm their suitability for your use case. 
Additional Resources: